26 Aug

Making Digital Transformation a Success with VIPS

For most companies, digital transformation is too complex to handle alone – Most end up relying on third-party providers such as VIPS for at least one component. It goes without saying that choosing your 3rd party partner is an important decision. Let's give you a tour of VIPS as your Digital transformation partner.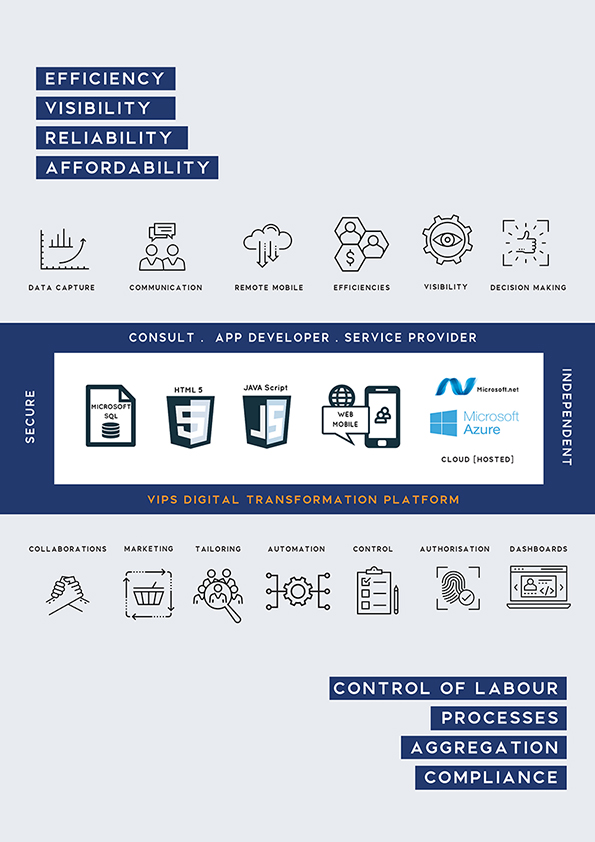 ---
As your Digital transformation partner, VIPS provides a secure and independent platform. What VIPS offers is:
Reliability
Visibility
Efficiency; and
Affordability
Now in turn, this can translate into many opportunities for your business. This in itself can easily bamboozle you if you are in the early stages of Digital transformation!
Here are just 3 things where VIPS can help you focus on when making changes:
While each business leverages technology differently, there are a few universal keys to making the most of digital transformation.
Connecting old and new technology: Digital innovation can only be as effective as the rest of your technology allows it to be, so understanding current workflows and how technology impacts them is critical. VIPS consults with you and reviews operating model differences and their speeds, agility, fluidity, and customer involvement ahead of time to prevent problems from occurring down the road.
Don't let past technology investments or failures affect future adoption.
Establishing a new culture: Making sure your business' technology is ready for the digital age is great, but transformation falls flat if employees don't believe in it. VIPS supports your employees and offers appropriate training and continuous learning opportunities to cultivate the knowledge and skills necessary for maximizing digital transformation's impact. Start by making changes to critical processes that link legacy systems to new ones.
Fostering collaboration: During your transition, the coexistence of two different models has the potential to bog down operations and bring decision-making into question. These negatives only get worse without open lines of communication. Leaders will need to communicate clear expectations regarding employee responsibility and accountability on a continuous basis to minimise disruptions.
As more and more companies transform themselves, the potential is exciting and the possibilities are largely untapped. Digital technology has the potential to revolutionise industries, so don't be afraid to think outside the box and try something new.
---
If it's time to make your greatest move yet, call VIPS today on 1300 788 801
Need more convincing? Why not get to know our apps in more detail here?
---